Steve Jordan on Club Custom
A leading artist demonstrates Club Custom drums in this video interview. A few years ago during the development of the Club Custom series, I was having trouble deciding on a color scheme for the prototype that they were making for a performance.Then one day while visiting a café with one of the Yamaha staff, there I saw it; the color used on the wall, THIS IS IT I thought. I pointed to the wall and said "Hey, that's exactly what I want for the drum." It took a number of tries before the staff at Yamaha could bring it to fruition, but this was the origin of the "Swirl" finish.
Biography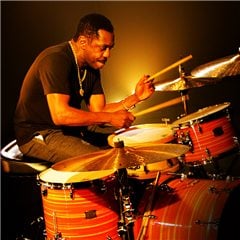 Steve Jordan is among the most demanded professional session drummers worldwide, recording for such artists as: John Mayer, Sheryl Crow, James Taylor, Alicia Keys, Bruce Springsteen, Robert Craye and Keith Richards.
Steve Jordan is much more than just a drummer – he is a multi instrument musician, songwriter, and performer. He is known for his work with many bands ranging from funk fusion groups to rock bands. Among his more popular credits and bands he has played for are: the Saturday Night Live House Band, The Blue Brothers, the David Letterman Show Band, The Rolling Stones and Eric Clapton. That is just a list of who he has played with live.
Steve Jordan's specialty is his groove drumming. He, like no other, is a master of funk and soul. He released an instructional movie entitles: "The Groove is Here, By Steve Jordan." This release has sold thousands to aspiring drummers worldwide.
With the history of Steve Jordan, there is no wonder to why he is so popular: previously Steve has been hired to play the European Tour with guitar legend Eric Clapton and is currently a member of John Mayer´s trio, together with bassist Pino Palladino.
Since the beginning of his career Steve Jordan has exclusively played Yamaha Drums, starting with the legendary Recording Custom in the 80ies and changing to the more modern Birch Custom Absolute kit in the 90ies.
In 2010 Steve Jordan was involved in the development of the Yamaha "Club Clustom" series drums, resolving from his wish for a musical kit, that according to Steve "you can bring into a club and not blow people out by the volume."
"The Club Custom can give you the punch it needs, but you can use a lot of dynamics with it aswell".
Together with the Yamaha Drums Design team it was possible to apply a unique, vintage style finish by lacquer instead of wrapping, giving all drums a beautiful "Swirl" finish without influencing the natural resonance of the shell.
Steve Jordan started to use Yamaha drums in the latter half of the 1970s for the exceptional quality and reliability that this brand of drums and hardware provides. He actively collaborates on new product development with Yamaha, thereby leading to the development of such products as the compact Yamaha Club Jordan Cocktail Drumkit and the Steve Jordan Signature Snare Drum (Signature SD).Steve Jordan's responsiveness toward environmental issues prompted him to request that Yamaha use ""smart wood"" materials, which ensures that wood is grown, harvested, replanted and processed in a sustainable manner, for the Signature SD drums that bear his name. He is also pouring his efforts into developing the latest Club Custom series drums and use prototypes on tour with The Verbs and for ""the Rhythm & Drums magazine Festival 2010"" in Japan.