Biography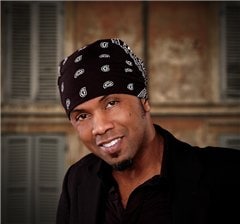 Michael Baker is that rare musician's musician whose nearly 20-year career in the music business is a testament to his adaptability, talent and ambition.
"I'm getting back to my roots in rock, which is my first love," he admits. "There is definitely a way to go about continuing to be successful in music. People who get hit after hit know what they're doing."
Michael Baker has learned from some of the best of them, from his gig barely out of college touring Europe with big band trumpet legend Clark Terry alongside old pal Branford Marsalis to stints with jazz pioneers like Hammond B-3 organist Jimmy Smith, Freddie Hubbard, Wayne Shorter, Phil Upchurch, Kenny Burrell, Billy Childs, Bobby Lyle, Stanley Turentine and, more recently, Weather Report's Joe Zawinul.
What's unique about Baker, though, is that he continues to work with mainstream pop artists like Brandy, Duncan Sheik, Candy Dulfer, Aaliyah, Celine Dion and Italian superstar singer Georgia, among many others, as well as working on the occasional soundtrack, like Robert Townsend's 1989 movie, "The Five Heartbeats," for which he and wife Aisha Ahmad-Baker wrote and recorded two of the songs in their home studio.
Born in Richmond, CA, Baker began playing drums at the age of seven while living in Japan with his mother, father and three brothers. After moving to Duluth, Baker sang, wrote and played drums in a local rock band called MA Free Press, which released an album called "Once In A Million" in 1976 and toured the region in "an 18-foot Ryder truck filled to the top," according to Michael. The following year, Baker moved to Texas to attend North Texas State University as a music compostion major with a minor in dance. While there, he discovered drummers like Billy Cobham and Narada Michael Walden and began to study jazz. Horn-player Clark Terry recruited him to tour in Europe in a band that included Berklee grad Branford Marsalis for $250 a week. "It was like being in the Army," marvels Michael. "You learn how to do things on the fly."
Baker moved to L.A. in 1981, where he joined the Broadway production of the show "Sophisticated Ladies" at the Schubert Theater with Gregory Kines and performed on TV shows like Merv Griffin and "Fame," with Debbie Allen. He then joined organ legend Jimmy Smith's trio with Phil Upchurch for a series of albums, including several as featured vocalist. He's also appeared on albums by Billy Childs, Bobby Lyle, Stanley Turrentine and other notable jazz artists.
Despite the respect he earned in the jazz arena, it wasn't enough for Baker, who continued to favor pop-rock.
"You have to learn how to play every kind of music," says Michael, whose own influences include drummer/singers like Don Henley and Phil Collins. "That education keeps you working. And that's the key. It's a long road and some guys just get there much faster."
Along the way, Michael honed his own vocal abilities by releasing a 12-inch single in Europe, "Don't You Want My Lovin'," on the independent Passion label. He also played the annual "Save The Rain Forest" concerts at Carnegie Hall alongside superstars Sting, James Taylor, Elton John and Tammy Wynette; the UNICEF concert with Celine Dion, Dionne Warwick, Bryan Adams, Taylor Dayne and Diane Warren, and Quincy Jones' 50th anniversary gala with Gloria Estefan, Stevie Wonder, Ashford and Simpson' Bernadette Peters, Chaka Khan and James Ingram.