Cliff Almond on Yamaha Absolute Hybrid Maple Drums
Biography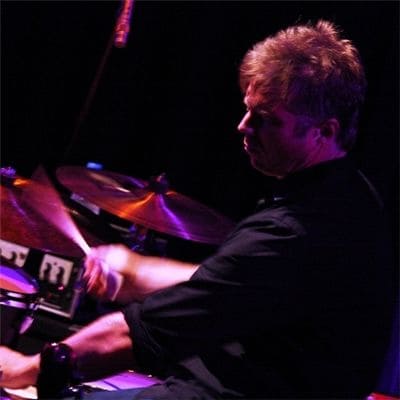 Drummer Cliff Almond, a California native, has been extremely busy this past year. With a consistent schedule of projects that cross numerous musical styles, Almond has found himself in constant demand for various Film, Television and Album Projects on both coasts as well as touring throughout the United States, Asia, Europe, South America and the Middle East with Artists such as Michel Camilo, Japanese Artist Akiko Yano, and The Manhattan Transfer. Cliff Almond Grew up in San Diego, California and came upon music very naturally. Coming from a family of musicians (Both parents being music teachers) Almond was started on Piano and violin at the age of 5. He soon discovered a preference for the drums and decided to pursue them. By the age of ten he was beginning to play around town in Youth Orchestras and Pit Orchestras in addition to rock and pop bands.
At the age of 12 Almond was enrolled in the Idyll wild School of the Arts, where he performed with the Jazz Ensemble groups and Studied with Gregg Bissonette and Steve Houghton. Soon after, he returned to San Diego and returned to his musical Routine. When he turned Eighteen, Almond enrolled at Musicians Institute in Hollywood California.
After a year of intense study with teachers such as Casey Scheurell and Ralph Humphrey, Almond once again returned to San Diego to pursue a Practice Schedule. At the Age of nineteen he began to commute between San Diego and Los Angeles to Teach at Musicians Institute.
When Almond turned Twenty, He sent a tape to then Chick Corea drummer Dave Weckl. Upon hearing Almond's tape and then inviting him to play at a drum clinic sound check, Weckl recommended Almond to Latin Jazz pianist Michel Camilo. Almond then flew to New York to audition and landed the gig. From then on he performed with Camilo in numerous festivals and television shows throughout Europe and Japan. He also began Recording with Camilo on his albums, as well as for many European film projects that Camilo was working on.
Before long Almond was being featured in many international Music magazines such as Modern Drummer, Slagwerkkrant (Holland), Drums (Japan), BASS (Japan). Keyboard (Japan) and Sound and Recording (Japan). Almond soon began to gain a reputation for a wide range of styles, by performing and recording everything from traditional Latin music to Pop, to traditional Swing.
Almond's recording Credits include numerous records with Michel Camilo, Jeff Berlin, Bunnie Brunell, Akiko Yano, Jeff Bova, The Hammonds, John Tropea, French singer Nilda Hernandez, and Japanese artist Yuka Kamawura. Almond has also played for such film soundtracks as "Amo tu Cama Rica" (spain), and "Two Much" (United States), Starring Antonio Bandaras, Melanie Griffith, Danny Aielo, and Joan Cusack. In Addition Almond has performed on Various Jingles for Televison and Film.
The Roster of Musicians Almond has performed and recorded with over the years includes such artists as Anthony Jackson, Will Lee, Jeff Berlin, Jimmy Johnson, Bunnie Brunell, John Pattitucci, Mike Stern, John Tropea, Chuck Loeb, Michael Brecker, Ronnie Cuber, Paquito d'rivera, Lou Marini, George Young, Dave Valentine, Lew Soloff, John Faddis, Clark Terry, Terrance Blanchard, Akiko Yano, Billy Childs, Michel Camilo, Leon Pendarvis, The Manhattan Transfer, Celia Cruz, Tito Puente, Alex Acuna, Giovanni Hildago, and Eddie Palmieri.