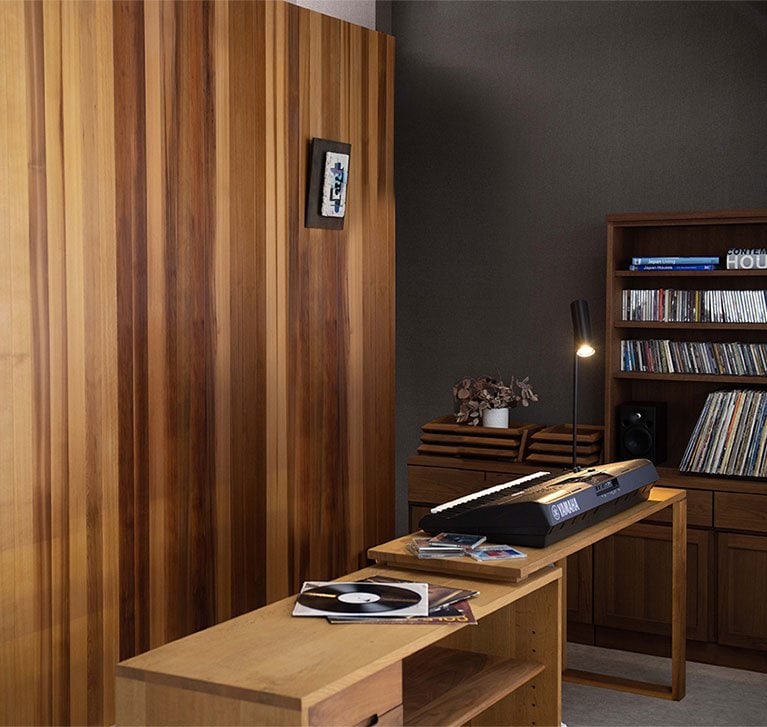 If you thought you needed professional-level skills or abilities to enjoy making music like a pro, think again!
With the new PSR-E463, all you need to turn your ideas into music is inspiration.
Quick Sampling - The possibilities are endless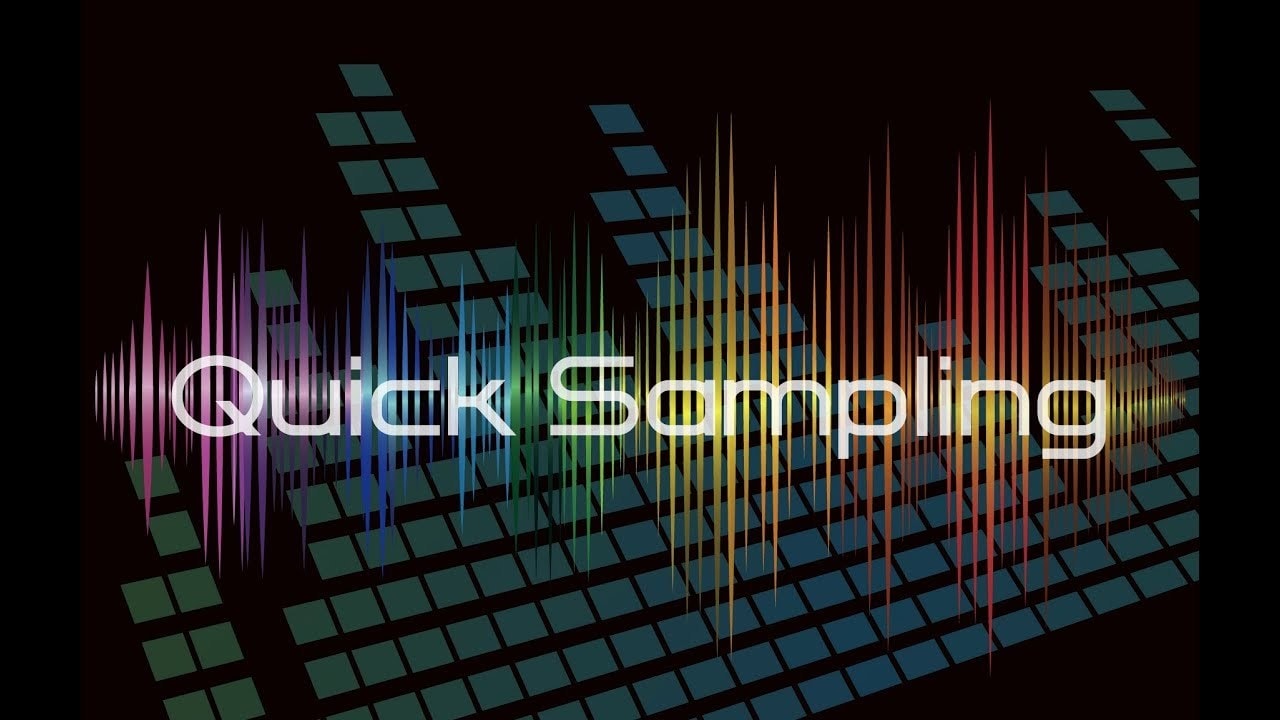 Quick Sampling - The possibilities are endless
Capture sounds using the AUX Input and play them back from the keyboard. Easy-to-operate Quick Sampling via AUX-In terminal so that you can play your favorite external sounds!
You can quickly capture audio from an external audio source and assign the sampled sound to the keyboard.
3 types of samples can be played back as your part of your performance.
Normal: The pitch of the sound varies depending on the key you play.
Loop: The sample is played in a loop without changing the pitch.
One-shot: The sample is played only once without changing the pitch.
Groove Creator - Make music like a DJ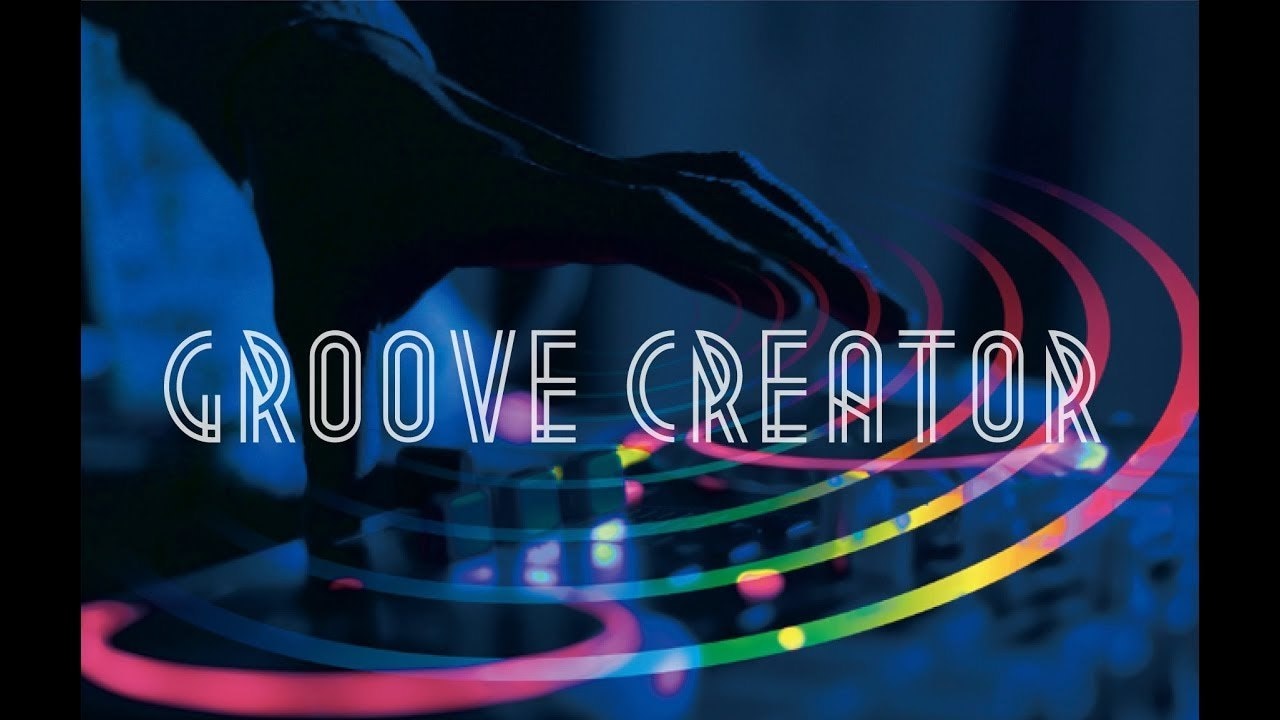 Groove Creator - Make music like a DJ
You can perform the latest music styles from the keyboard like a DJ - lay down a beat, tweak the groove, adjust the mix and get the dance party started!
You can easily create your own "groove" by turning each track on/off, altering sections, or adding various effects using the live control knobs.
In addition to western EDM sounds, Groove Creator supports contemporary dance music from around the world!
Once you have made a cool track, save it to a USB device as an audio file.
The better an instrument sounds, the more it inspires us
Yamaha has a proud history of manufacturing just about every kind of musical instrument. When it comes to reproducing the sound of these instruments in a keyboard, the results are detailed and high-quality.
The PSR-E463 features a comprehensive library of 758 instrument Voices that will allow you to enjoy playing any musical genre.
001 Grand Piano
020 Cool! Rotor Organ
042 Classic Guitar
109 Sweet! Trumpet
143 Gemini
185 Fantasia
Real-time backing band tracks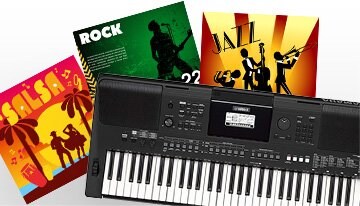 235 auto Accompaniment Styles, including 10 new local Styles and 5 contemporary Styles inherited from Genos, provide real-time band backing tracks based on the chords you play.
007 SweetPop
035 EpicDivaBallad
047 SkyPop
129 BrazilianBossa
138 CumbiaColombiana
176 HighLife2
Memorizing your favorite settings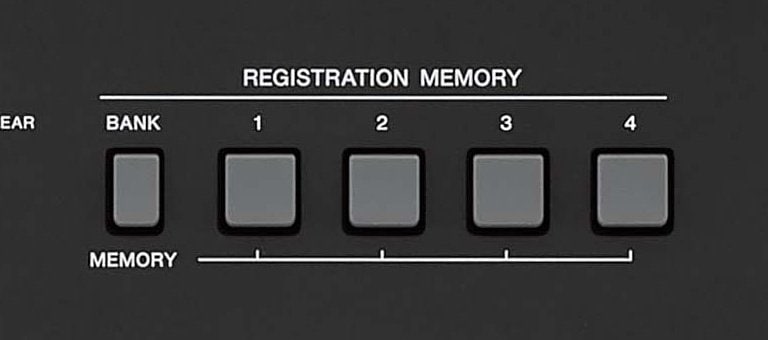 The Registration Memory function allows you to save 4 x 8 panel settings for instant recall.
Intuitive "Live Control Knob" interface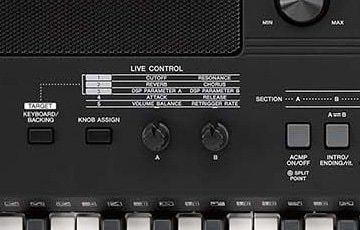 Change sounds on-the-fly by switching the effect destination!
Two assignable, real-time control knobs let you filter and adjust your sound just like an analog synthesizer.
10 DSP effects can be assigned and controlled by the knobs for dynamic and expressive live performance.
The Pitch Bend wheel adjusts the pitch of the sound bringing voices like the Guitar, Sax and Trumpet to life.
"Target" button supports quick target change of effect destination.
More convenient USB TO DEVICE terminal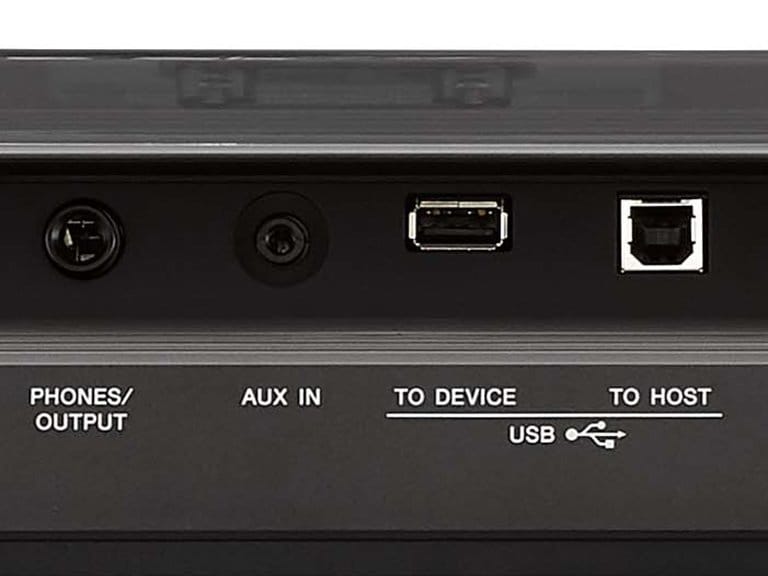 You can record your performances to USB Flash Drives. The USB TO DEVICE terminal on the instrument lets you load and save your settings and songs to a USB flash drive, as well as transfer data from your PC.
Connect to portable devices or computers for even more fun
The PSR-E463 features audio transfer through the USB TO HOST terminal*. You can record your performance to your computer or smart device.
Connecting to your iOS device adds a new dimension of MIDI control with apps.
Connect an external audio player to the AUX IN jack and you can play along with your favorite tunes. The built-in, advanced Melody Suppressor lowers the volume of vocals and melody lines of the original recordings, leaving that part open for you to play or sing**.
*For iOS device connection, refer to the "iPhone / iPad Connection Manual"
**Depending on the song, the volume of the melody part may not be affected.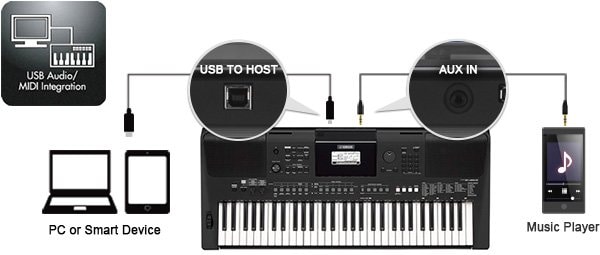 El PSR-E463 es el mejor primer teclado para tocar varios estilos musicales de los últimos vinilos favoritos. Tiene un teclado de 61 teclas con respuesta al tacto con altavoces integrados potentes y funciones profesionales fáciles de usar como perillas de control asignables en vivo, Quick Sampling, creador de grooves y una grabadora de audio USB.
758 high quality voices including Sweet! and Cool! voices, with 48-note polyphony
Quick Sampling function - 5 sample (1 Normal type + 4 One shot/Loop type) Max 9.6 sec/sample
Groove Creator function - 35 grooves, 5 sections(4 main +1 Musical Climax)
235 auto accompaniment Styles
USB Audio Recorder - 80 minutes. (.wav)
6W + 6W amplifiers with 12 cm Bass Reflexed speakers
Assignable real-time Control Knobs, DSP Effects, and Pitch Bend
Connectivity with audio and MIDI capabilities