Biography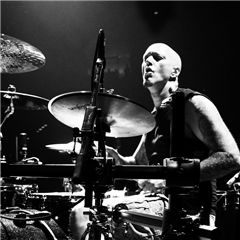 What it feels like to drum on a legendary Heavy Metal record?
A question that Dave McClain of Machine Head could answer.
With release of "The Blackening", Bay Area thrashers Machine Head have created a record that fans and critics count among the most important heavy metal records of the past decade.
Following the 2008 release, Machine Head started monstrous 3 years of touring, sharing the stage with Slipknot, Slayer and Metallica and playing headline shows to a growing audience across the globe, including the legendary headline spot at the 2009 Wacken Festival, closing the festival in front of 70.000 people.
In 2011Machine Heads released their 7th studio album "Unto the Locust" which continued the bands musical path of creating heavy songs with deep melodies. The album became the bands highest charting album and lead to an extensive tour across the globe.
If you have experienced a Machine Head live show, you have witnessed the special chemistry that exists between each of the band members. The outstanding sound of each musician in the band, results in a special energy that is given on to the audience.
Drummer Dave McClain is seen as differing from many metal drummers because, as well as drumming with consistent speed and power, he incorporates a creative variety of uncommon rhythms for a metal drummer, using his double-bass drum pedal to great effect along with a very select drum kit and cymbals.
Not only Daves unique setup, spreading both bass drums with an 45° angle and the very low toms, but mainly his drumming have made him one the most exciting drummers on the metal scene.
Dave McClain played rented Yamaha Recording Custom drums at Loud Park, one of major heavy metal events, when he visited Japan as a member of Machine Head in October 2008. At that time, staff at the Yamaha head office in charge of artist relations tried to approach him, but gave up on the idea of negotiating a deal with him because he had just signed a contract with another drum manufacturer.Subsequently, McClain contacted Yamaha's staff in charge of artist relations in Europe after becoming dissatisfied with the other manufacturer's products during an event in Europe in 2009. On that occasion, he expressed an strong interest in Yamaha, and since his contract was set to expire, Yamaha welcomed the chance to conclude an agreement to bring him on board.In the same year, Yamaha loaned him Oak X drums that had caught his attention. Just launched at the time on a limited edition basis in Europe, this kit became his regular musical instrument of choice thereafter. ""I have always thought that all artists contracted to play Yamaha drums are great,"" says Dave McClain. ""I was extremely interested in the unprecedented quality and high standards of Yamaha drums, which have attracted lots of these great artists. But, I thought that Yamaha was more into fusion and jazz and not really keen on rock drummers like me. So I am happy that I was able to become a member of the Yamaha family at this time."" Dave McClain is currently active in helping Yamaha for their promotional efforts, including the use of his image for Oak X and Rock Tour drums.