7.2-channel AV receiver supports advanced surround sound formats to make movies come alive.
Dolby Atmos® and DTS:X™ support
MusicCast for audio enjoyment in every room
Potente sonido envolvente de 7 canales
--- 80 W por canal (6 ohms, 20 Hz-20 kHz, 0.09% THD, 2 ch driven)
--- 115 W por canal(6 ohms, 1 kHz, 0.9% THD, 1 ch driven)
--- 145 W por canal(6 ohms, 1 kHz, 10% THD, 1 ch driven)
Wi-Fi Built-in and Wireless Direct Compatible for Easy Network
Bluetooth® for wireless music streaming and Compressed Music Enhancer for Bluetooth
AirPlay®, Spotify®*, Pandora®*, Tidal*, Deezer*, Qobuz*, JUKE* music streaming service
Funcionamiento en modo ECO para un 20% menos de consumo de energía
DSD 2.8 MHz / 5.6 MHz, FLAC / WAV / AIFF 192 kHz / 24-bit, Apple® Lossless 96 kHz / 24-bit playback
Gapless playback compatibility allows play without interruption
HDMI (4 in / 1 out) with 4K Ultra HD full support, HDR Video including Dolby Vision and Hybrid Log-Gamma, and BT.2020
Front panel USB Digital Connection for USB thumbdrives
Pptimización de sonido YPAO para configuración automática de los altavoces
Virtual Surround Back Speaker for playing 7.1-channel content with a 5.1-channel system
Dialogue Lift ensures that dialogue comes from the centre of the screen
Dialogue Level Adjustment for proper sound balance with dialogue and vocals
Assignable amplifiers for bi-amp connection and Speaker Zone B Function
Multi-language colour OSD capable of displaying cover art
Funcionamiento en modo ECO para un 20% menos en consumo de energía
Enter a New World of Sound with Dolby Atmos® and DTS:X™

These sound technologies transport you from an ordinary moment into an extraordinary experience with captivating, multidimensional sound that fills your room with amazing richness and depth. These sound technologies allow for music, people and objects to come alive in breathtaking detail and flow in precise choreography all around you, making you feel like you are right in the middle of the story.
Speaker Layout Patterns Designed for Dolby Atmos Playback
Yamaha provide multiple placement patterns for presence speakers that support Dolby Atmos, creating a sound field that's ideal for your setup. Any layout can be appropriately reproduced, including the three-dimensional space of CINEMA DSP as well as Dolby Atmos.
MusicCast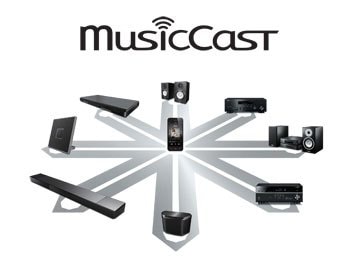 MusicCast is a new revolution in network audio, use all your MusicCast products together or separately, it's completely up to you. Control it, all from one app, designed to be intuitive, quick and simple to use. Use a soundbar, a wireless speaker, an AV Receiver, HiFi audio whichever suits you best, mix and match then expand your MusicCast system as time goes on. All new from Yamaha, the MusicCast system brings everything to everywhere for everyone.
MusicCast Expands Entertainment Possibilities
MusicCast employs a high performance wireless network to deliver music and audio enjoyment. It can stream digital music content from your smartphone, PC or NAS to other MusicCast devices in your home. It can also share the music from external devices such as a TV or Blu-ray Disc™ player connected to the RX-V583. Audio content from Bluetooth®-connected smartphones or tablets can also be streamed to MusicCast devices in multiple rooms.

Bluetooth®-Compatible for Wireless Music Streaming
This AV receiver is equipped with Bluetooth functionality to let you enjoy easy wireless music playback from smartphones and other devices. The Compressed Music Enhancer from Yamaha is now optimised for Bluetooth audio transmissions to ensure that your music will have vivid, lively sound quality during wireless playback.

Bluetooth Output for Convenient Music Streaming
The RX-V583 is equipped with the latest Bluetooth technology, making wireless operation more convenient than ever. You can stream music from the RX-V583 to Bluetooth headphones for private listening or to Bluetooth speakers.

4K Ultra HD Full Support with 4K / 60p, HDCP2.2, HDR Video Including Dolby Vision and Hybrid Log-Gamma, and BT.2020 Pass-through
This AV receiver completely supports with latest HDMI® standards. Thanks to transmission of 4K video at 60 frames per second pass-through, you can fully enjoy the high definition video quality of 4K without degradation. It also adheres to the HDCP2.2 copyright protection standard for 4K video transmission. It also supports HDR (High Dynamic Range) Video including Dolby Vision and Hybrid Log-Gamma which provides incredible contrast, smooth tone and rich, bright colours. Furthermore it supports the wider colour gamut of BT.2020 pass-through. This AV receiver is also compatible with 3D, Audio Return Channel and CEC for easy operation.
*Dolby Vision and Hybrid Log-Gamma will be available via future firmware update.
Wi-Fi Built-in and Wireless Direct Compatible for Easy Network
Wi-Fi Built-in capability allows wireless connection with your household wireless router, greatly simplifying system connections to enjoy network audio and music streaming services. If no Wi-Fi router is available, the unique Wireless Direct feature not only allows you to stream music directly from your smartphone or tablet via AV Controller App's Music Play feature, iOS's AirPlay® etc, but also control your receiver using the AV Controller app.

Network Functions
This AV receiver provides a variety of network functions that enable you to access more sources and also enhance operation. You can connect the receiver to your home network or internet to enjoy Internet Radio, Spotify*, Pandora®*, Tidal*, Deezer*, Qobuz*, JUKE* or music stored on a NAS and home PC. The AV Controller app (from iTunes® App Store or Google play) lets you control various functions from your iPod®, iPhone®, iPad® or Android™ phones / tablets.
Funcionamiento en modo ECO para un 20% menos de consumo de energía
AV Controller App, fácil operación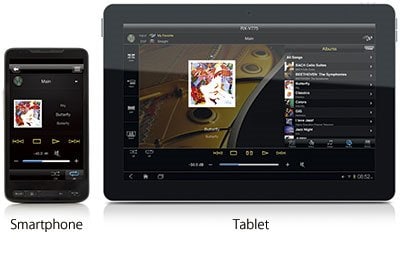 Este receptor AV le permite utilizar la aplicación Yamaha AV Controller que se puede descargar desde el iTunes App Store o Google Play para controlar el encendido / apagado y volumen, seleccionar modos DSP de entrada y y utilizar otras funciones de un iPhone o dispositivos Android. También se puede utilizar en hasta 23 idiomas diferentes y personalizar la interfaz al ocultar los iconos no utilizados y las funciones de cambio de nombre. Una versión de comprimido también está disponible.
DSP Parameter Adjustment for Easy and Detailed Setting
This AV receiver is equipped with a variety of sound programmes that utilise Yamaha's original DSP technology. They allow you to easily create sound fields like actual movie theatres or concert halls in your room and enjoy natural stereoscopic sound fields. Now you can use the AV Controller app to adjust DSP parameters to your preference to match the type of music / movie or the mood you want to achieve. There are two modes, Basic and Advanced, that you can choose according to the type of adjustments you want to do.
AirPlay permite transmitir música al receptor AV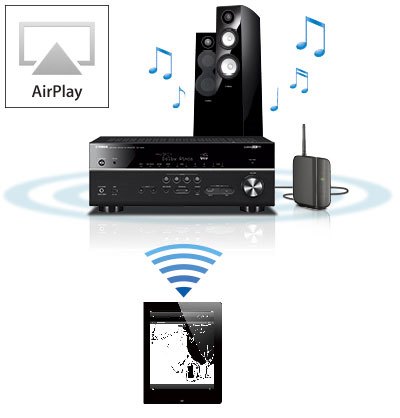 Este receptor AV compatible es con AirPlay, lo que significa que pueden aceptar Transmisión inalámbrica de música desde el iPod touch, iPhone o iPad, así como de iTunes en Mac o PC. Esto hace que sea fácil de disfrutar de la música desde sus dispositivos móviles o computadoras en su sistema de cine en casa. Puede utilizar la vista de metadatos, como título de la canción, nombre del artista, así como carátulas * via visualización en la pantalla del receptor de AV. * Algunos modelos no son compatibles con visualización de carátulas.
* Algunos modelos no son compatibles con visualización de carátulas.
Escucha millones de canciones con Spotify Connect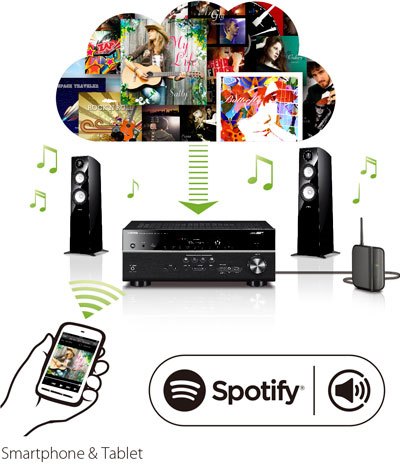 With the Spotify app on your smartphone, you've got instant access to millions of songs. And now you can stream those songs to your Yamaha system by using Spotify Connect. Just hit play to start streaming music. What's more, when you've been listening on your smartphone outside and come inside, the song immediately streams to your AVR—like magic, you enjoy uninterrupted music. You can also personalise playlists and receive phone calls while listening to music.
*The Spotify app and premium account are required. Visit spotify.com for more details.
Try Spotify Premium for free on your Yamaha Home Entertainment System for 30 days.
La disponibilidad del servicio depende de las regiones.
Amplia integración de códecs de audio y soporte para varios formatos

This AV receiver is compatible with many audio formats such as Dolby® True HD and DTS-HD Master Audio. It is also compatible with high resolution audio codec such as DSD / AIFF / FLAC / WAV / Apple Lossless. You will enjoy excellent sound quality of various high resolution audio codec from USB and network content.
Gapless Playback Compatibility Allows Play without Interruption*
Many live and classical albums have no gaps in the music. Gapless playback ensures that there are no pauses between audio files. This provides playback with no interruptions, the way it was meant to be heard.
*Compatible with WAV, FLAC and ALAC file formats, and input from USB / PC / NAS.
[Características de audio] Concepto de PurezaTotal para la mejor calidad de sonido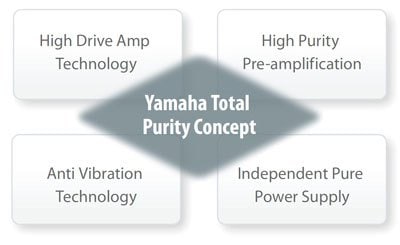 El Concepto de PurezaTotal, que Yamaha ha cultivado durante muchos años, abarca la alta tecnología del amplificador, la pre-amplificación, la tecnología anti-vibración y las fuentes de alimentación independientes. Todos los modelos disponen de un amplificador de potencia totalmente discreto que ayuda a minimizar la distorsión. También adopta fuentes de alimentación independientes, permitiendo que las fuentes de alimentación estén dedicadas para los circuitos analógicos y digitales y así evitar el ruido digital de circuitos analógicos. Los disipadores de calor están diseñados para suprimir la vibración de transistores y la presión acústica. Las fuentes de alimentación son independientes para los DACs, que están diseñados para reducir aún más el ruido en ciertos modelos. Hasta el último detalle, estos receptores AV está diseñado con énfasis en la más alta calidad de sonido posible.
YPAO-R.S.C. (Reflex Sound Control) Optimización de sonido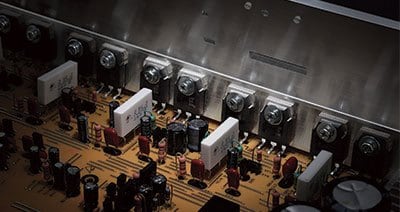 Este receptor AV se ha diseñado con un fuerte enfoque en el logro de la claridad de sonido excepcional. Emplea una configuración de amplificador discreto y un circuito PLL de bajo jitter, lo que contribuye a su excelente calidad de audio.
AV Setup Guide App Makes System Setup Easier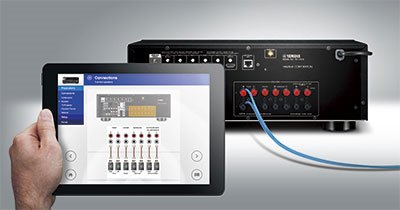 AV Setup Guide is an app that makes it much easier to perform receiver setup, and also assists you with cable connections between the AV receiver and source devices. It guides you through various settings such as speaker connections, TV and source device connections and power amp assignment. System illustrations and actual AV receiver images help you understand how to make the connections between devices, for much quicker system setup. It is available in multiple languages. Designed for iOS and Android tablet.
SCENE de One-Touch de inicio

Al pulsar Una Escena en el receptor AV se selecciona la fuente de entrada automáticamente. El Modo DSP se Puede volver a Configurar los botones de Diferentes fuentes MEDIANTE La Selección De Una fuente y el Modo DSP, al presionar ONU boton Escena DURANTE MAS DE TRES Segundos.
Multi-idioma de la interfaz de visualización en pantalla avanzada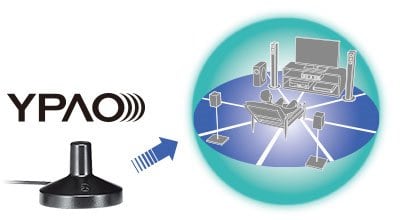 La última interfaz gráfica de usuario de Yamaha 's tiene una pantalla de alta resolución y fácil de usar con menús claros, y también incluye una barra de estado seleccionable que muestra la fuente de entrada, nivel de volumen, modo DSP y el formato de audio. La interfaz gráfica de usuario ofrece una selección de ocho idiomas: Inglés, francés, alemán, español, italiano, ruso, japonés y chino, y se puede visualizar a través de imágenes normales y 3D.
[Realismo Surround] Audio HD con CINEMA DSP 3D y altavoz Presencia Virtual
CINEMA DSP 3D ofrece un gran y denso campo de sonido. Formato HD de decodificación de audio le permite disfrutar de fuentes de audio HD. Presencia Virtual proporciona un sonido de 3 dimensiones sin el uso real de los altavoces de presencia.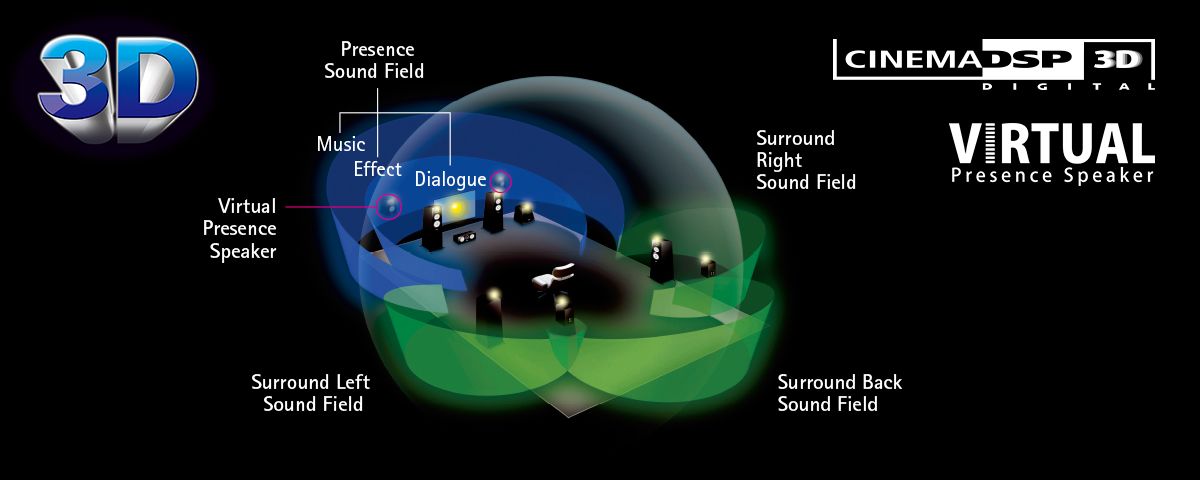 Virtual Presence Speaker and Virtual Surround Back Speaker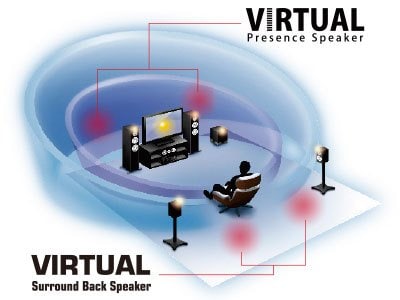 The Virtual Presence Speaker function makes full use of centre and surround speakers to create virtual presence speakers. Enjoy CINEMA DSP 3D Mode surround sound even in environments where speaker installation is limited. In addition, This model also features a Virtual Surround Back Speaker function. Even without using surround back speakers, you can experience more natural sound from behind you.
Virtual CINEMA FRONT Provides Virtual 5-channel Surround Sound with High Quality and Resolution
Even when it is impossible to install surround speakers behind the listening position, Virtual CINEMA DSP reproduces virtual 5-channel surround sound filled with realism, with only two front speakers. With Virtual CINEMA FRONT, you will enjoy virtual 5-channel surround sound with higher quality and resolution by installing surround speakers at the front. You get more flexibility to arrange your speakers inside the room, along with easy enjoyment of high quality surround sound.
Zone B output provides 2-channel sound in a second room
Zone B output capability allows the receiver to send 2-channel sound to a second zone, so the main zone now has 5-channel output. This means that users can enjoy stereo sound in a second room. The same source will play in both zones (cannot use two sources).
Extra Bass Provides Rich Bass Reproduction, Even with Small Speakers
Yamaha' s exclusive low-range enhancement technology delivers richer bass than you expect from the speaker size while maintaining good localisation and sound balance even with compact front speakers. When a subwoofer is used, it improves the volume of the entire low range of the speaker system, not only the front speakers, but also enhancing the bass from the subwoofer. You'll enjoy video and music with sound that has exceptional power and presence.
Ajuste de subwoofer para mejorar la imagen de sonido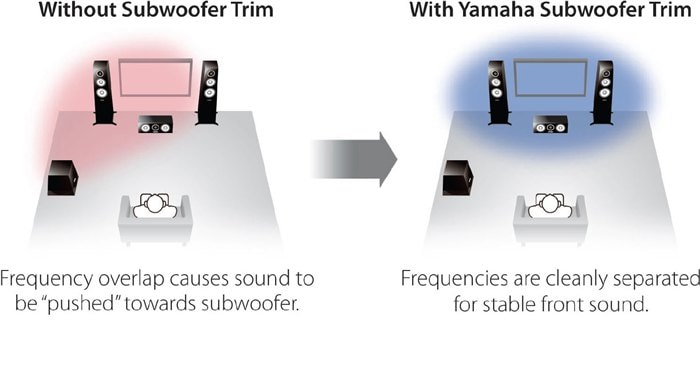 El control de ajuste Subwoofer realza las frecuencias bajas, evitando la superposición con la salida del altavoz delantero. Esto resultará en un escenario de sonido más limpio, más centrado mientras que proporciona una respuesta de frecuencia sin fisuras. Cuando superposición de frecuencias del subwoofer se producen en los sistemas convencionales, el sonido en general es ""empujado"" hacia el subwoofer. El Subwoofer se encarga de esto por la separación de las frecuencias graves del subwoofer limpiamente, estabilizando así el escenario al tiempo que proporciona un sonido de bajos superior y equilibrado.
Modo ECO que reduce el consumo de energía en un 20% *
Yamaha's new ECO mode reduces power consumption by about 20%. It can be set from the top of the GUI menu.
* comparándolo con el consumo de energía cuando el modo ECO está apagado.
Escucha millones de canciones con Spotify
El pagado automático le permite ahorrar energía mediante la selección para desactivar el poder después de 2, 4, 8 ó 12 horas.
Yamaha Eco-Product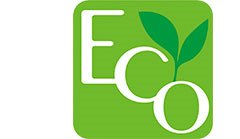 With an advanced energy saving design, this AV receiver achieves a low power consumption of not more than two watts when in Network Standby mode.